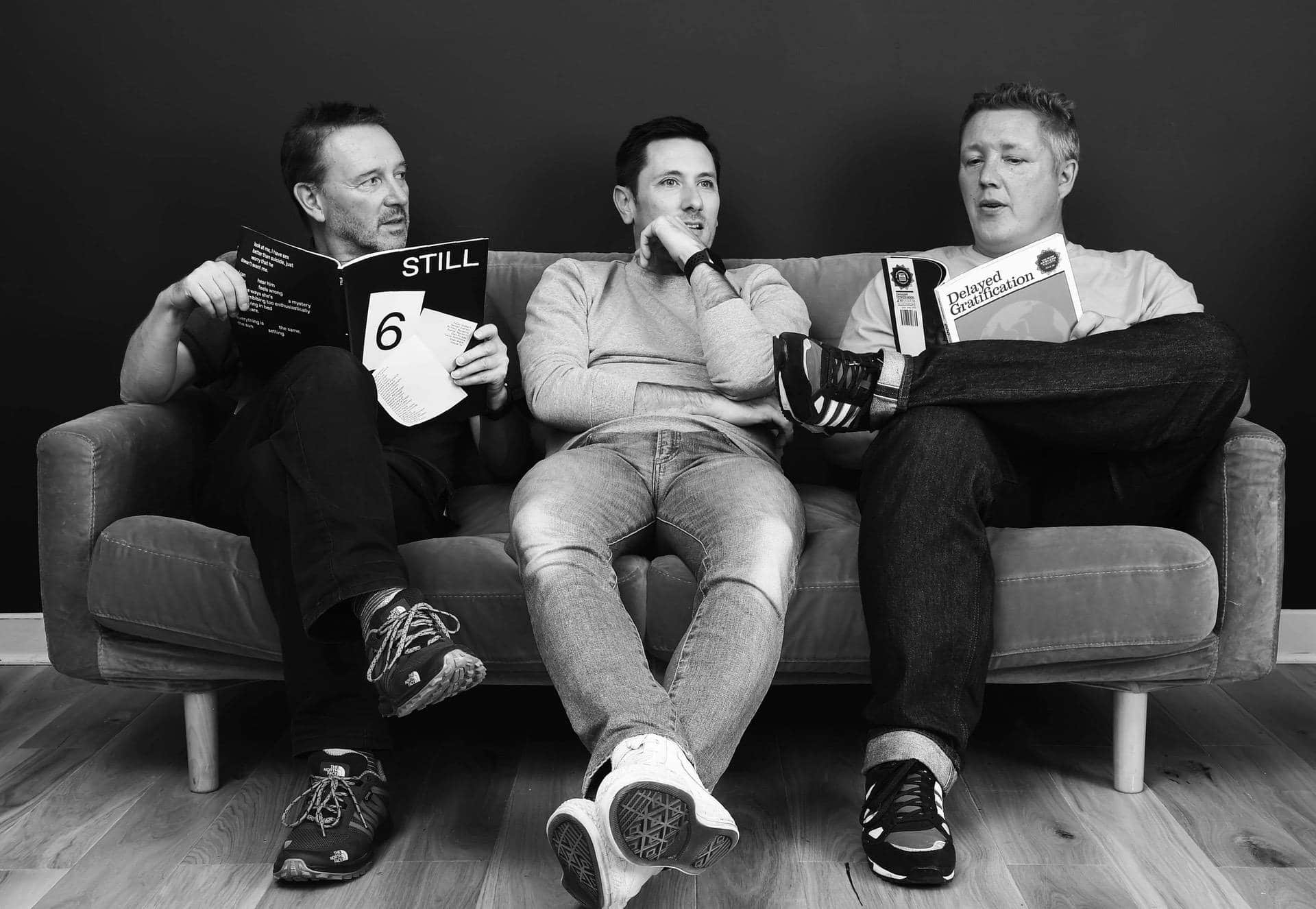 Leadership
Greenwich Design:
The Next Generation
Design agency Greenwich Design and digital creators Pixello announced their exciting merger at the start of 2020. Now, Directors Simon Wright, Dan Bramham and Arrann Diamond sit down to discuss their goals and aspirations for the new company.
What is it that makes Greenwich Design different from other agencies?
Simon: It's all about the people. Greenwich Design started life over 50 years ago as a family-run business and that's given us a very distinct ethos and culture – everyone who joins this team really does become one of the family. We don't suffer from the revolving door issue that's common in many agencies. We have a very loyal team, who understand every aspect of the business. For clients, that means a very personal approach with no red tape – they have direct access to and build great rapport with the people working directly on their projects.
Arrann: We have a streamlined team of experts here, so we're able to cut out all the middlemen. Clients know they're dealing with the people on the ground doing the actual work, and if they have a question, they can get a direct answer.
Simon: That's how I've always preferred to work. It's an education for everybody to know how the design process works both from the client's and the agency's perspective.
Arrann: The Greenwich Design team are fully involved at all levels. It's what makes us efficient, approachable and friendly.
What are the major changes to the agency now that Greenwich Design and Pixello have come together?
Simon: It's an exciting time! Despite Covid-19, the past six months have seen us bring together this inspiring, talented team of designers and developers. Both Greenwich Design and Pixello bring along their own long-standing clients, but already this merger has meant that there is not only an ever increasing roster of new clients but a wider variety of projects, so it's really inspirational – everyone on the team is powering forward and seeking out new challenges. It's a great place to be.
Arrann: We're now a full service agency offering design and digital – everything under one roof. Alternatively we can just take on the design or the digital element if that's what the client needs. We're also happy to work with other agencies – we're very flexible.
Dan: The two companies coming together has made our business more attractive to potential clients and we're already seeing more opportunities coming our way. New sectors bring new opportunities to shine, so this is a really exciting time for our creative team.
Simon: Yes, when you look at the case studies, we have a fantastic variety of work. From branding workshops to a website for a men's media outlet, there's quite a range, which I think is massively important.
Dan: Just before lockdown we moved into our new studio. It's a quirky old industrial space with tonnes of natural light – the perfect space for creatives to create. That has just amped up people's desire to be here and be a part of this creative bubble.
Arrann: Yes, definitely. The studio has been mentioned as a factor for some of the new staff wanting to join us. It's a great place to be!
So with three company directors leading the charge for Greenwich Design, how are the leadership roles and responsibilities divided between you?
Simon: We're working in a much more structured and disciplined way now the two companies have merged. Arrann leads all digital projects, Dan oversees all creative direction and there are plenty of projects where there is crossover. My role has increasingly been away from the drawing board and more about making sure the business is running smoothly.
Arrann: I feel the whole team, and especially the leadership team, need to understand all areas of the business. Whether it be brand identity, WordPress development, e-commerce builds, or offline print design we need to develop a broad knowledge of each area so we can ensure the best service to our clients.
Dan: It makes perfect sense to share the responsibilities as we are doing. We've got the right people in the right places, each looking after their bit of the business, and it's working really well.
How easy is it for you, Simon, to be, as you say, stepping away from the drawing board?
Simon: It's actually reassuring, because Arrann and Dan are complete professionals with huge knowledge, experience and expertise in their areas.
I watched the previous generation running the business. My father was the only one that wanted to do things differently. He was the one, for example, that pushed the move to Greenwich from Bromley South. I could see how having partners who didn't hold the same vision for the business could hold you back, so I decided I wasn't going to do it that way.
We're now moving back to a partnership with three people who are inspired and all have vision. These are vital ingredients to a successful partnership. We're three individuals with differing backgrounds and areas of expertise but we all have the vision and aspirations to drive the company forward. We may not always agree on the ways in which to do this, but we all have the common goal of growing the business and seeing it succeed.
Arrann: It goes back to what you said about having defined areas, which helps. We each have a third that we manage, but it's in our specialist areas so it works. And there's also a mutual respect for the different people and their skills, and that goes a long way.
Dan: Yep, it's about respect, transparency.
Arrann, what's the biggest learning you've brought with you from running your own company?
Arrann: The biggest thing I've learnt is try to understand as much as you can about what the people in your team are doing – you can't just manage and not know what's going on. It's about understanding the time and effort a developer will put into a certain build, or knowing the systems so you can help figure ways around some of the barriers that people come up against. I don't believe you could or should confidently talk to a client about their project without having a clear level of understanding. Constantly winging these conversations just doesn't cut it for me. I know we've won pitches over other agencies before because we can speak at every level, very confidently.
I also think it's key to always keep clients updated. Let them know what's going on, even if it's not always the best of news! Lack of communication feels like nothing is happening, even if you're working away behind the scenes. Keep the dialogue going so everyone can feel like they're in the loop and across the project.
Finally, I've learnt the importance of recognising the value in your team and showing them your gratitude. Say thank you, check they're happy. It's really important to value your team, so be open, make sure they feel valued and they know their worth.
Dan, how's your day-to-day changed since taking on a director role?
Dan: My new role is to make time for our team. To be there for them, to nurture their potential and to help them become the best designers they can be. I'm also on hand to look after clients more than I've had time to do so before, which is great for building stronger relationships.
I also get to delegate more. It's tough, because I love getting stuck into the creative, but there's a great team around me to do that, so now I get to collaborate with them rather than own the creative, and, with a bit of direction, they're really taking their creativity to the next level. I'm loving the fresh perspectives coming from the new creatives; the understanding and experience shared with them by the senior creatives and the way they're working together is fantastic.
We're only as good as the people we have around us and the work ethic and commitment from everyone in the creative team has been phenomenal, which makes my new role as creative director an absolute pleasure.
What are the short and longer term goals for the agency?
Simon: We want to continue to service our current and long-standing clients to the highest order, whilst exploring new avenues with them too – what more can we do for them? What else could we offer? If we're designing for you, can we offer any digital expertise and vice versa? At the same time, we're enjoying warmly welcoming a whole host of new clients and projects, so we want to continue this growth and cultivate new creative opportunities across a wide variety of sectors. The whole team relish the challenges and creative inspiration the different genres bring, so we will continue to enjoy diversifying.
Arrann: There's a buzz in the studio with the merger, the move to new studios, the new projects we've landed with existing clients and the projects we've won with new clients, it's an exciting time. Now we want people to feel that sense of excitement externally. We want that buzz and energy shared amongst clients, old and new.
Simon: As you change from being on the creative or production side to the management side, you also get a buzz out of the fact that the team is growing and learning and honing their skills. We've had some fantastic new people join our team over the past few months and to see them fit into our family has just been a joy. All of that becomes just as inspiring as the actual work for me.
Dan: The success of the business really is all about the people. As directors, we're all thinking, how can we retain this brilliant bunch of people; what can we do for this team to make Greenwich Design an even better place for them to work? We're always working on this. We want to make the team as strong and as happy as it can possibly be.