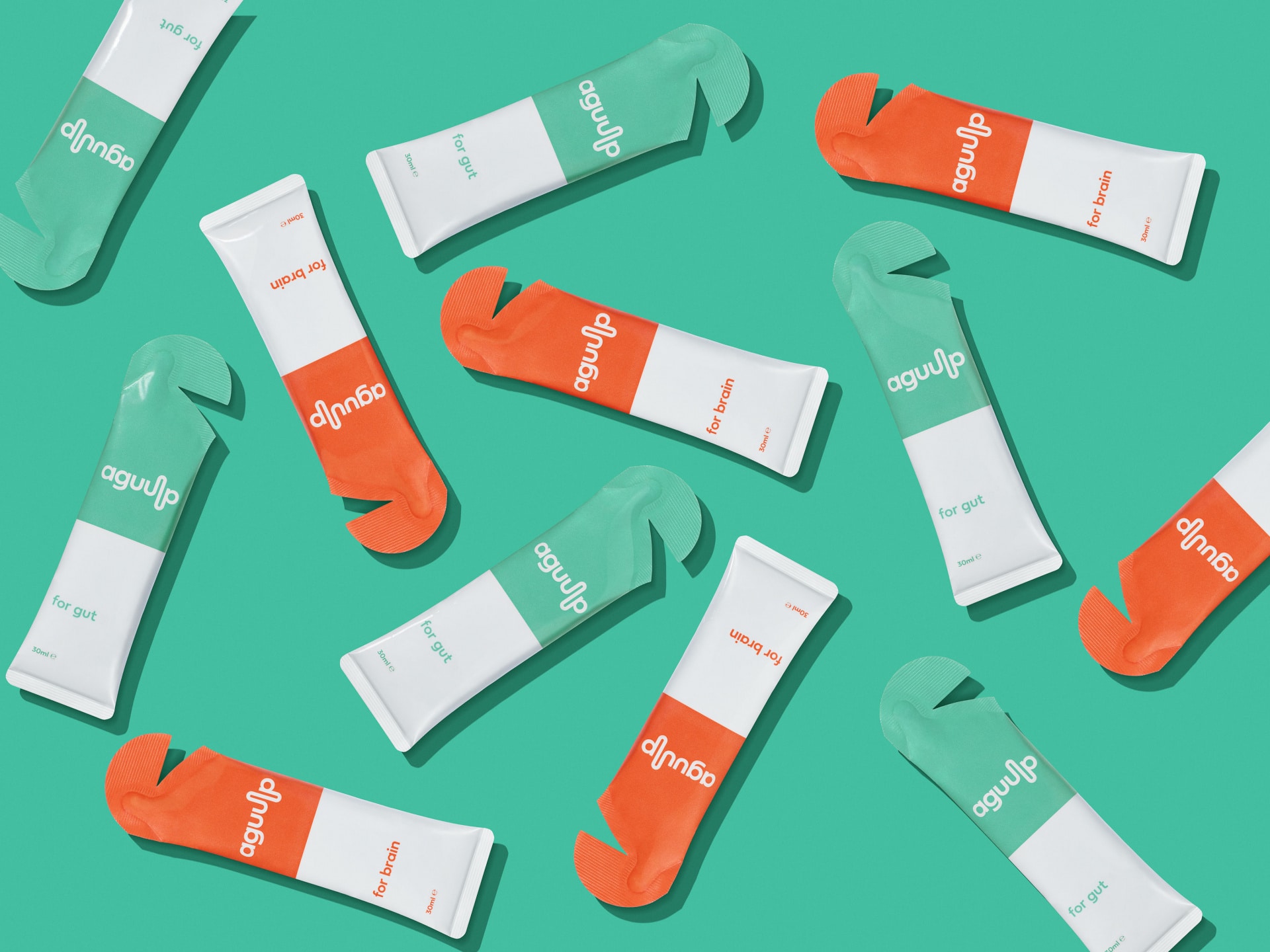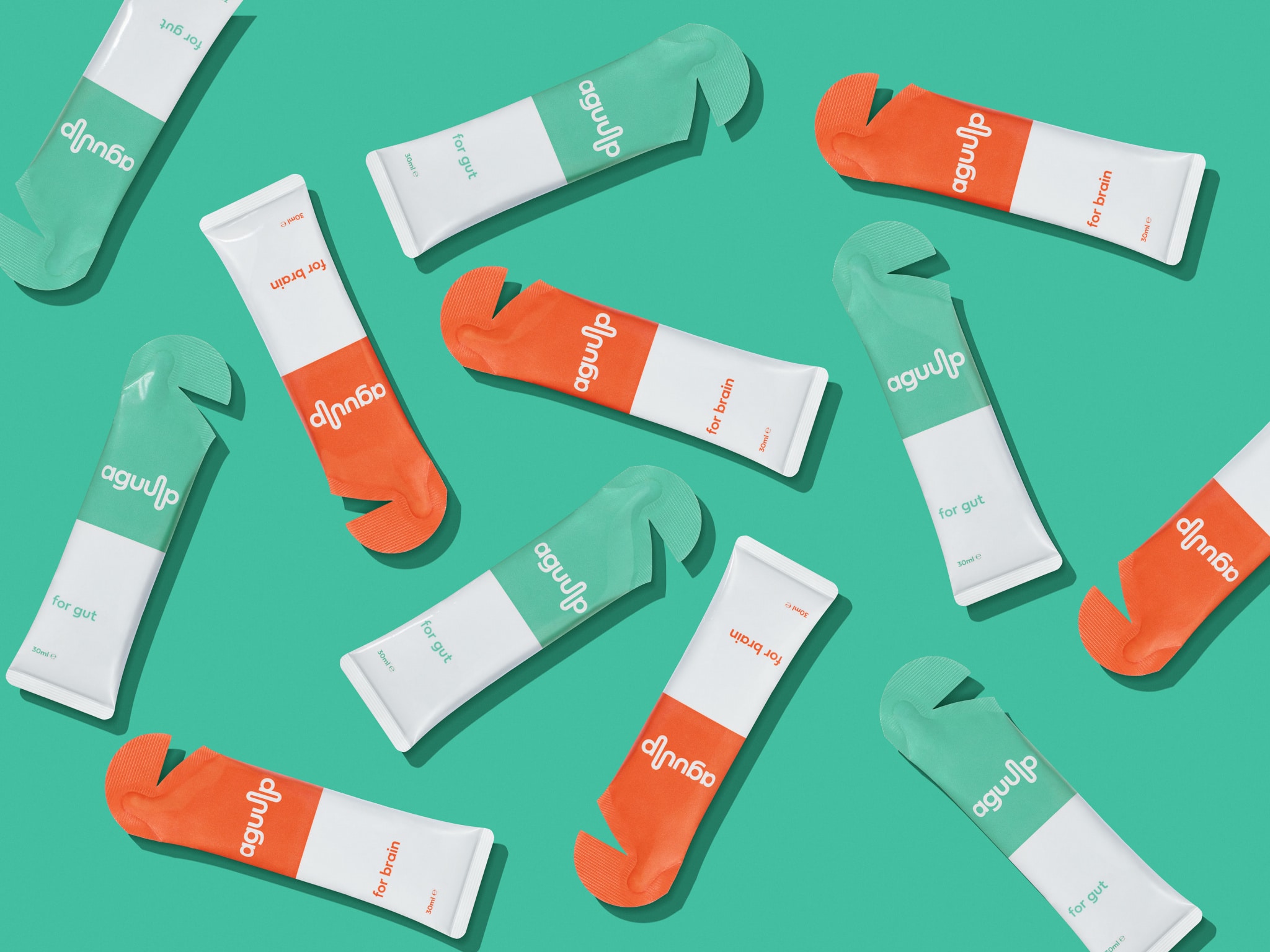 Chats
Chewing the Fat:
Aguulp
This week we chat to Kris Shaw, Managing Director at Aguulp, a liquid nutrition supplements company co-founded by Professor Green and Kevin Godlington, which focuses on the connection between a healthy gut, brain and immune system.
So, what's Aguulp all about then?
Aguulp was co-founded by Stephen Manderson aka Professor Green, who has experienced a lifelong battle with gut health. After years of conventional treatments and unsuccessful surgery, Stephen finally fixed his gut problems through a healthy diet and high-quality supplements. The bi-product was that he also felt happier, less anxious, had deeper sleep and higher motivation. After talking with serial entrepreneur Kevin Godlington and Jason Fox who had followed similar paths, they founded Aguulp, borne out of their combined experiences.
The product is a liquid shot that can be taken on a daily basis. We launched Aguulp with the gut and brain formulas and soon followed up with immunity, sleep and recovery products on the back of it. Our goal is to offer simple and accessible gut health advice for the country and beyond.
Who's your main audience?
The gut product, which is currently 80% of our sales, skews slightly more female, but not much – it's pretty much half and half, whereas we find the brain product skews a lot more male.
In the crowded wellbeing market, how do you ensure Aguulp gets cut-through?
Supplements and vitamins is a very crowded market. There are a lot of people in that space, and it's often associated with being very scientific, very medicinal. You only come to it if you have a problem. Aguulp is trying to be a lot bolder, a lot simpler in its language and communication. We wanted Aguulp to be a brand that people feel an association with instead of being a blue and white scientific pack. We've tried to make it warmer, a lot more inviting and accessible to people.
While gut health is an exploding market, we're trying to go beyond that and explain the link between gut health and overall health. We're broadening it out to people who don't necessarily have gut problems but want to get that overall health boost by focusing on the gut. There are studies coming out every day that show how much your gut health impacts every bit of your body and we want to share that knowledge. We don't just want to be selling products; we want people to be educated and aware.
"They're always there to support us and we really appreciate that."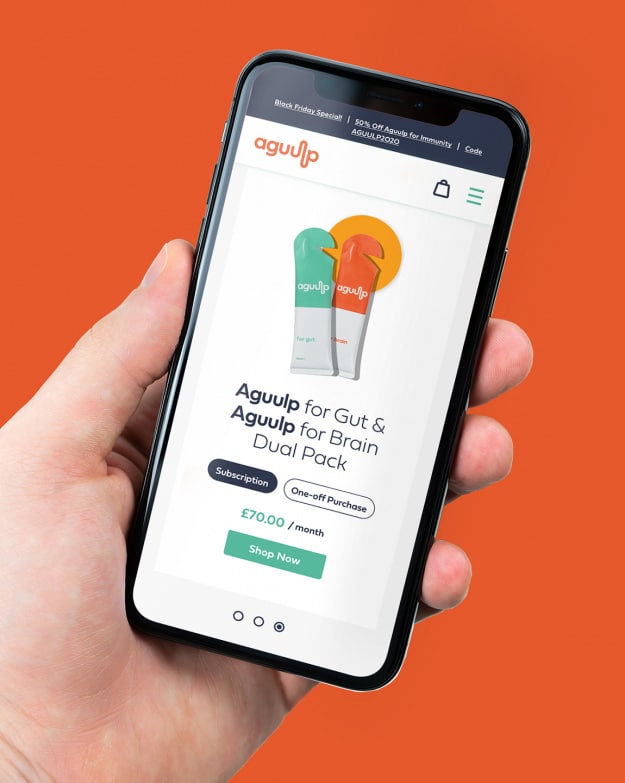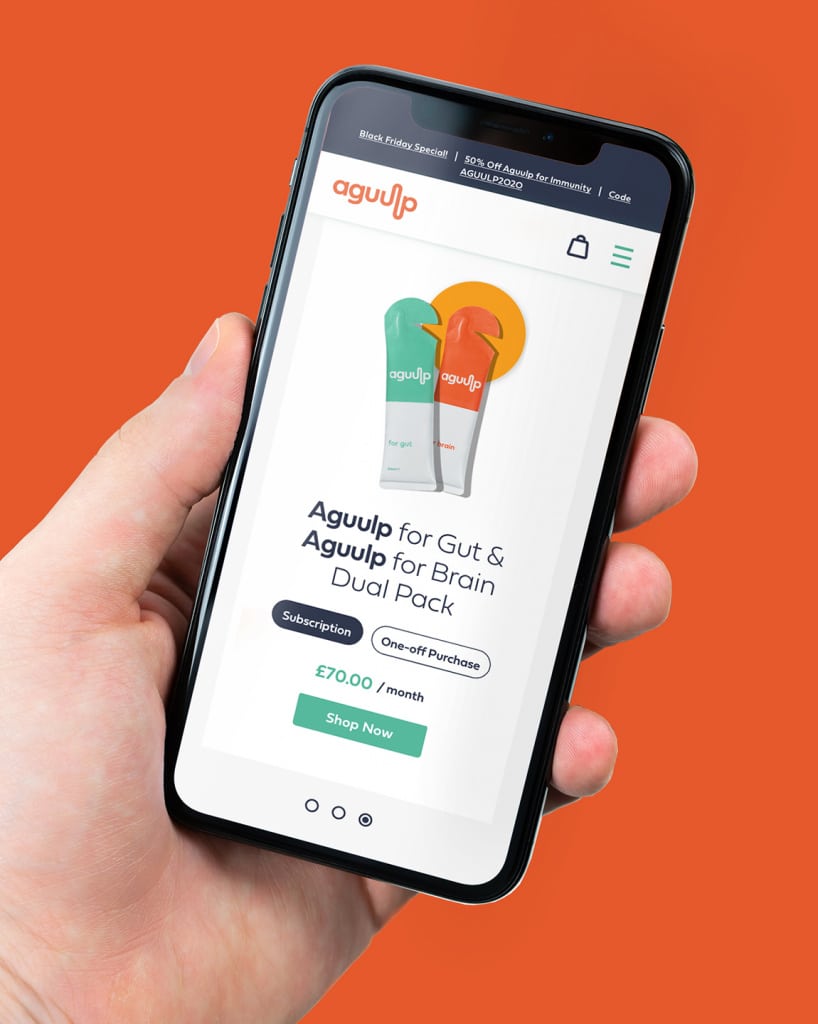 How does the website contribute to that?
When we approached Greenwich Design, we had a basic brand design which was very simplistic in terms of a logo and a few colours. The design team did a really good job of executing that and translating it into a fully fleshed out website. It was our first stab at going public with the brand, so Greenwich joined up all the dots to build out a larger product. We wanted it to feel bold and energetic, fun and modern. The colour palettes we chose helped, but Greenwich Design added to the design and complemented it with their own colours. From a brand perspective, the site is very informative and from a user-perspective it's very simple to navigate and easy to checkout – we're really pleased with the result.
One of the positives of the pandemic was a massive focus on wellbeing. Do you think that's contributed to Aguulp's success?
It's hard for us to say because we're entirely a lockdown brand. We had a pre-launch period of four or five months so sales of Aguulp were very good at the start because we'd done a lot of pre-promotion. Our co-founders obviously have good profiles too, so the pent-up demand was very high. We had a great first couple of weeks, and after that initial boost, it's been a steady flow of hitting our monthly sales targets. So yes, we've got a good user base and it's still a very untapped market that continues to grow and grow.
How will you encourage people to keep up the positive momentum around mental and physical health once life returns to 'normal'?
We're a subscription brand, and that's something we've really started focusing on more recently. Greenwich Design helped us to make some changes to the website to help us dial up that side of the business. We're getting a lot more subscribers and our retention of subscribers is really good – we want to be a subscription business, first and foremost.
What would you say to those who are considering buying Aguulp but concerned about the price tag?
We can state our case in terms of what Aguulp is doing for you on a daily basis, but we stay away from trying to justify the price (it actually works out at just over a pound a day). Our customers are our strongest advocates – we've got a lot of authentic five-star Trustpilot reviews coming in and I think that's what will convince others to buy Aguulp. We're having conversations with people who have experienced such a positive impact on their health since taking Aguulp – for some it's been genuinely life-changing. It's testimonials from customers like these that demonstrate the real value of Aguulp and will help convince other people to try it, rather than us shouting about price.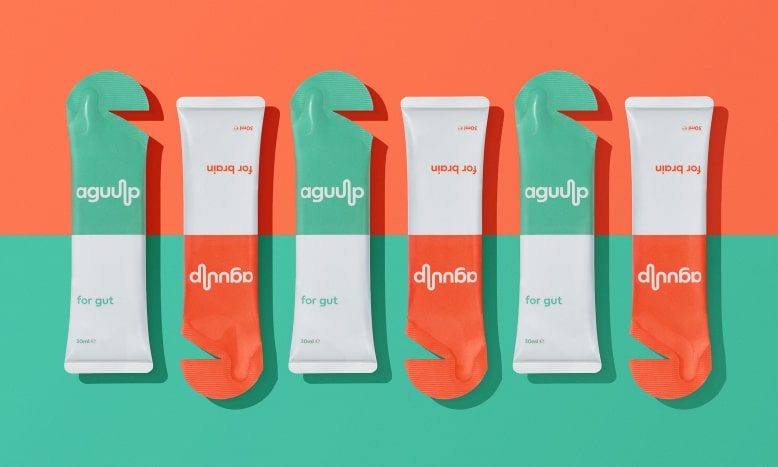 Can you tell us a bit about what inspired the creative look and feel of the Aguulp brand?
When we launched, we had two products, guts and brains, in a dual pack. We chose mint green for the gut because it's soothing and kind of medicinal. Aguulp for brain is a nootropic, which helps with mental clarity, focus and is more of a pickup. This was reflected in the vibrant orange colour. We went with those two main colours to begin with, and as we've evolved, we've chosen a few more.
What other brands inspire you?
There are a few direct-to-consumer brands in our space that are doing really good stuff – brands like Heights, Hims and Moju, so we've obviously looked at them. They're a few years down the line from us so we appreciate the work that they're doing in and around our space. That said, we wanted to ensure Aguulp had its own unique looks and feel.
Finally, anything you want to say about the Greenwich Design team?
Yes – the guys at Greenwich got the design and the ethos very quickly and it didn't require vast amounts of feedback from my side. They just got on with it, which was great. I was always really impressed with how they were leading us in terms of design. After the initial project (the design and build of the website), I've developed a really good relationship with the team there, and Arrann in particular. They provide ongoing support in terms of keeping the website working and operational – there are a million things that come up every single day, all the issues around having a live e-commerce site. They're always there to support us and we really appreciate that.
Thanks Kris, we're all big fans of Aguulp and we're here to help as the brand evolves.
To see the work we did for Aguulp, check out the case study and visit the Aguulp website