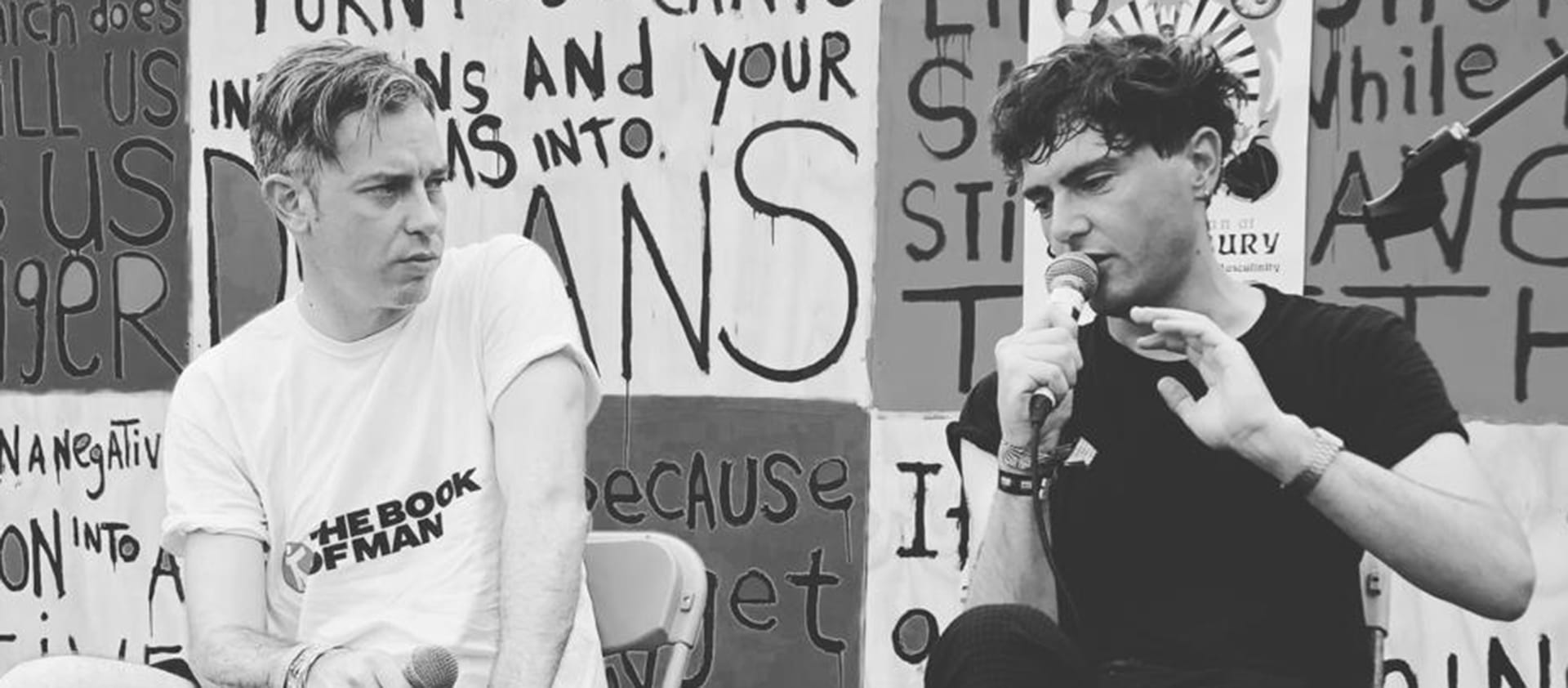 Chats
Chewing the Fact with Online Men's Magazine, The Book of Man
This week we chat to Martin Robinson, Founder of The Book of Man, an online men's magazine that explores masculinity, mental health and other issues affecting men today.
So, what's The Book of Man all about then?
It's an online men's magazine-website that looks at the issues facing modern men, so our core subjects are mental health and masculinity. We look at how the world is changing very rapidly, and how social and gender roles are changing. When I launched it, there was a lot of talk about the mental health crisis, high suicides statistics for men, and the #MeToo movement. There was a lot flying around and men were really under scrutiny, so it felt like a good idea to try to steer them through it, being neither too judgmental on male behaviour nor letting men off the hook – but being honest. It was about having a space where we could discuss these things positively, trying to take hold of the conversation and do the right thing. Given the way the world was going, this kind of launch into the men's market felt like a good idea.
There were already quite a few established men's magazines and websites around, so did you feel they were not tackling these important new areas?
I certainly thought so at the time. I've been in the men's market for many years and you can see the changes happening with the audience. Even brands are getting on top of the fact that their audiences are changing. Unilever did a massive worldwide study and discovered that the old idea of marketing to men with lots of semi-naked women just wasn't appropriate anymore. But it's slow, and a glossy men's style magazine, for example, might have a legacy to deal with.
The advantage of coming in and doing something completely new is that you can invent exactly who you are from the beginning and not have to deal with that legacy. A lot of existing men's titles have shifted somewhat, and some of the health and fitness magazines are doing more on mental health; some of the uber-cool, glossy mags are also doing a bit more on mental health and masculinity too, so there's been a slight shift. But that's just evidence to me of why it's such a moment, and why marketing to men and speaking to men is so interesting right now.
"Greenwich Design were very receptive and got what I was trying to do. They listened and took on board my ideas, even if they were sometimes thinking – who is this mad man?!"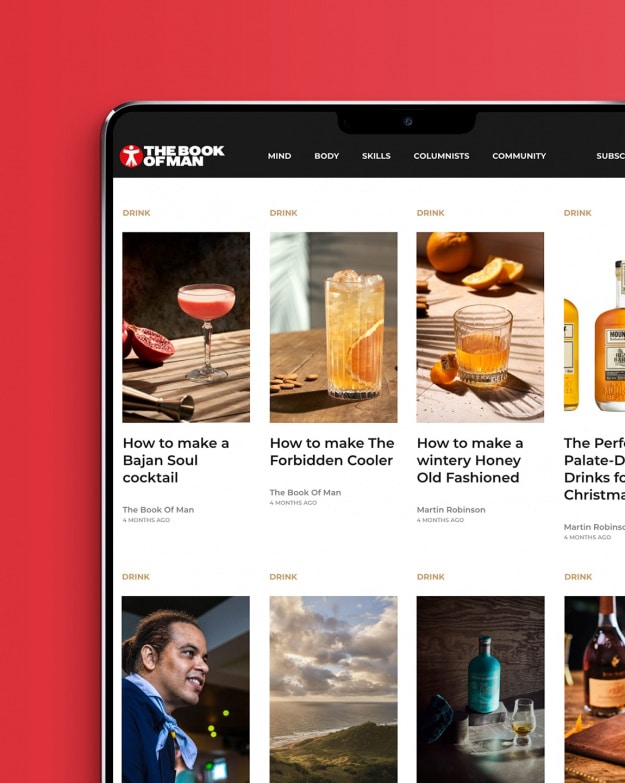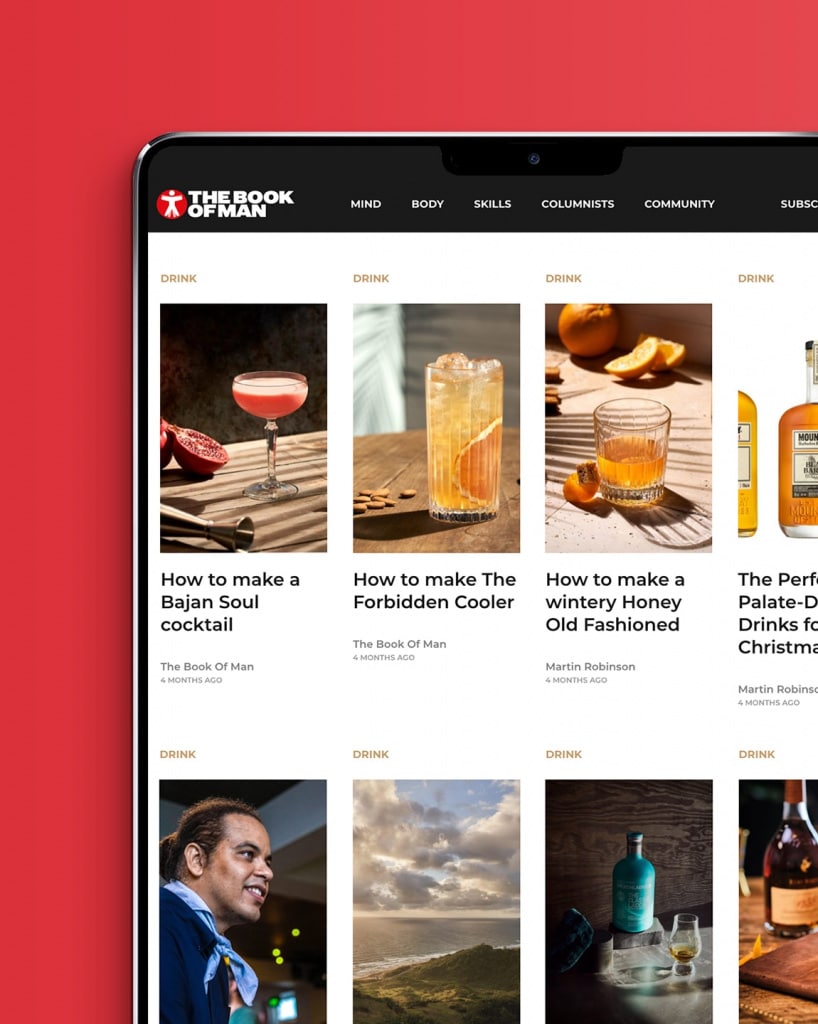 When you briefed the website, what were your objectives, both creatively and technically, to maximise your readers' experience?
It was very important to me to keep it an advert-free zone, and to make sure it was well-designed with a certain 'cool' to it. There was a certain attitude that I wanted to have through the design from the start. I was covering forward-thinking issues that a lot of men may be reluctant to deal with, so I felt the rest of the site had to be a friendly male space. I was trying to push the boundaries, talking about the fact that mental health is an issue, or asking why we're so worried about wearing dresses, for example, so the rest of it had to be slightly comfortable.
My two main concerns going into the process with Greenwich Design were creating that comfortable space, which came down to colours and design, and making sure we had enough scope on the site for lots of different areas looking at every single aspect of a man's life. Although dealing with mental health and masculinity is our core, there's also style, grooming and DIY in there. It was about creating scope, making it look visually masculine, and a bit different as well.
From a design and visual perspective, The Book of Man has the high-quality look and feel of a print magazine. Was that intentional?
That was key – I wanted to achieve some interesting formats and options. I really like print, and I like playing around with headlines and captions and different print formats, whereas most websites will strip it right back and keep it as simple as possible so there are no issues with loading speeds etc. This illustrates the relationship I had with Arrann and the team: I'd propose what I'd like, and we'd see what solutions they could come up with. Sometimes they'd tell me it wouldn't work and explain why, but often, they'd suggest we give it a go. That was what was so pleasing about the process for me.
If I'd been aiming purely for traffic, then perhaps I'd have gone for a much harsher, digital focus, but I wanted to create a unique and high-quality experience that a smaller, but highly committed audience would really appreciate. And I think it works very nicely!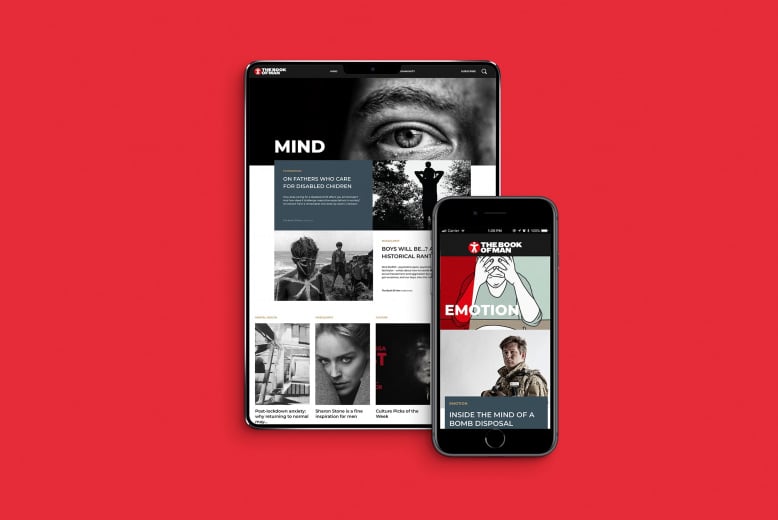 Mental health is an important part of your content. Did you find more people searching out this information during the pandemic?
During the early months of the pandemic, we saw much more traffic and obviously we felt that it was our duty to run lots of relevant stories and provide encouragement for people around that time. It wasn't just about the dead-on mental health stories – it was also the other things that go alongside it like making the most of your exercise or about exercising at home. There are so many topics to cover that are linked to mental health. It was a very difficult time for many people, but I feel that's what The Book of Man is there for. We're a resource, and all our stories are there for people whenever they encounter difficulties.
So, tell us about your new book 'You Are Not The Man You Are Supposed To Be' and why we should buy it?
The book is my take on modern masculinity, looking at all the issues that have come up over the last few years. I look at what's been happening, some of the changes that have been taking place, and explore what men should particularly take note of. There are a lot of interviews with people I've met over the course of working on The Book of Man – famous faces, academics and other experts – who can shed light on questions like what is mental health? What role does evolutionary psychology have upon male behaviour? What impact does traditional sort of 'laddie' behaviour have on women? And I try to bring it all together in a friendly sort of way. Hopefully it's quite funny and not patronising. It's not about coming up with solutions – I'm just trying to continue the conversation and try to look at it from the perspective of we're all in this together – let's try to understand what's happening and see how we can improve and help ourselves as well.
Have you seen a shift in how industries or businesses are approaching mental health?
It's a relatively new thing but I've seen it everywhere from law firms to media agencies, and the construction industry is doing massive things in that area. That's one of the high-risk industries when you look at the statistics, so that's very encouraging. I hope it's not just a passing trend, and that these things actually get built into the way that we run businesses now. Every business must take responsibility when it comes to mental health and have an easily accessible support structure, and one that encourages men to join in, because men notoriously don't want to deal with these kinds of issues. It's not about having one event a year on Mental Health Day, but about an approach and understanding within your organisation that makes it okay to talk about these things.
"Greenwich were willing to explore beyond what they needed, so that it's not a 'one size fits all' approach."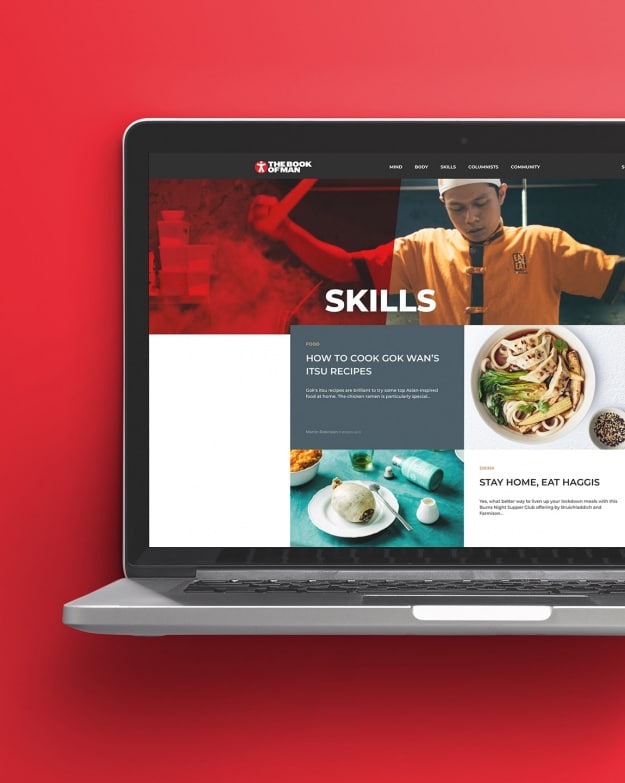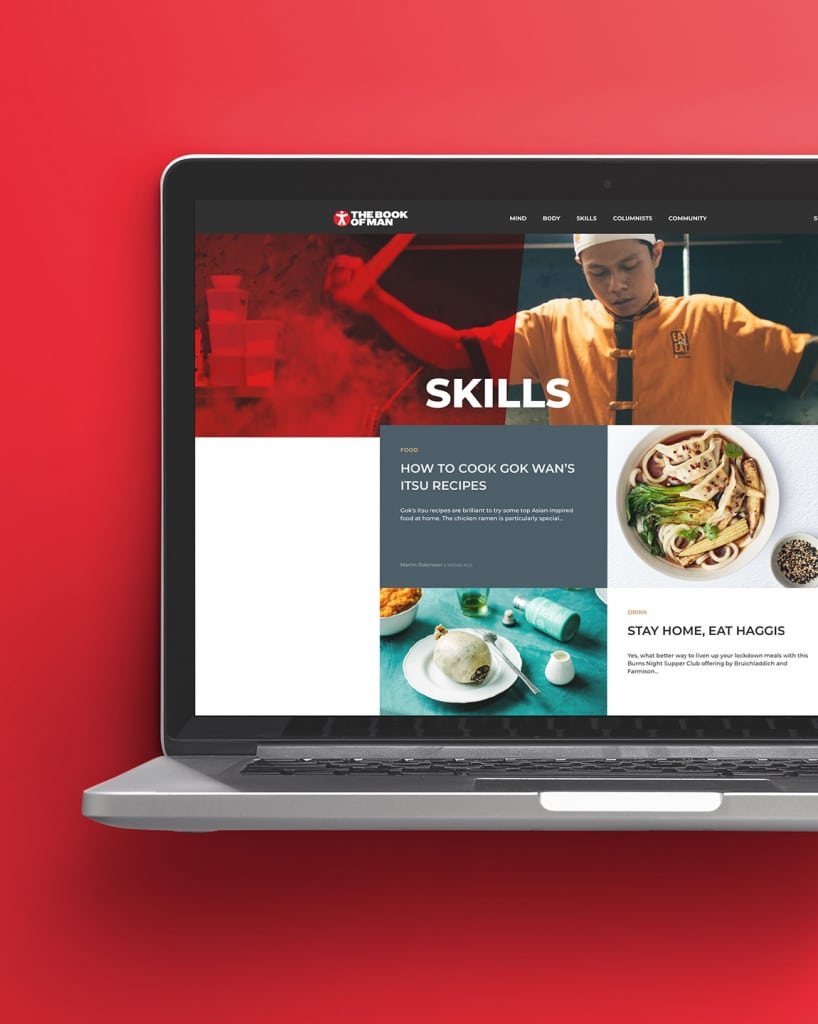 Who do you think is making a difference in the mental health / wellbeing space?
Ben West is a mental health activist doing a lot of work around supporting students. He's a very articulate, young man who, since the death of his brother, has become one of the leading figures in mental health campaign work. I like the way he articulates the subject – he makes it really accessible for people through his social media pages. I get very inspired by what the younger generation is doing and how engaged and smart they are – not a complete mess like I was at that age!
Finally, can you give us a testimonial that sums up what you enjoyed most about working with GD?
I enjoyed it so much! It was the best bit of the process for me because I love bringing something to life. It's a search for identity – you're working on trying to find the identity for your brand. Greenwich Design were very receptive and got what I was trying to do. They listened, took on board my ideas, and then tried to get a version of that into the site – even if they were sometimes thinking – who is this mad man?!
For instance, some of the design references I showed them were uber arty-farty, New York punk posters and books from the early '80s No Wave scene, which I've always really loved. Greenwich Design took that on board and added a couple of design elements to reflect it, like the red slash that comes across all our article pages, which is just a lovely little moment. I knew I liked the references because of the colours and the boldness, so I wasn't completely deranged, but they rendered it into something that our audience would like as well, and it's great to be able to work with other creative people like that.
It was that mix of being in a creative partnership, as well as having some great new technical functionality. I also had the sense that Greenwich were willing to explore beyond what they needed, so that it's not a 'one size fits all' approach. It was a chance for them to discover interesting new plugins that could make a difference. The process was exciting, and I could have developed it for years – that's my happy place – but thankfully we did actually finish it!