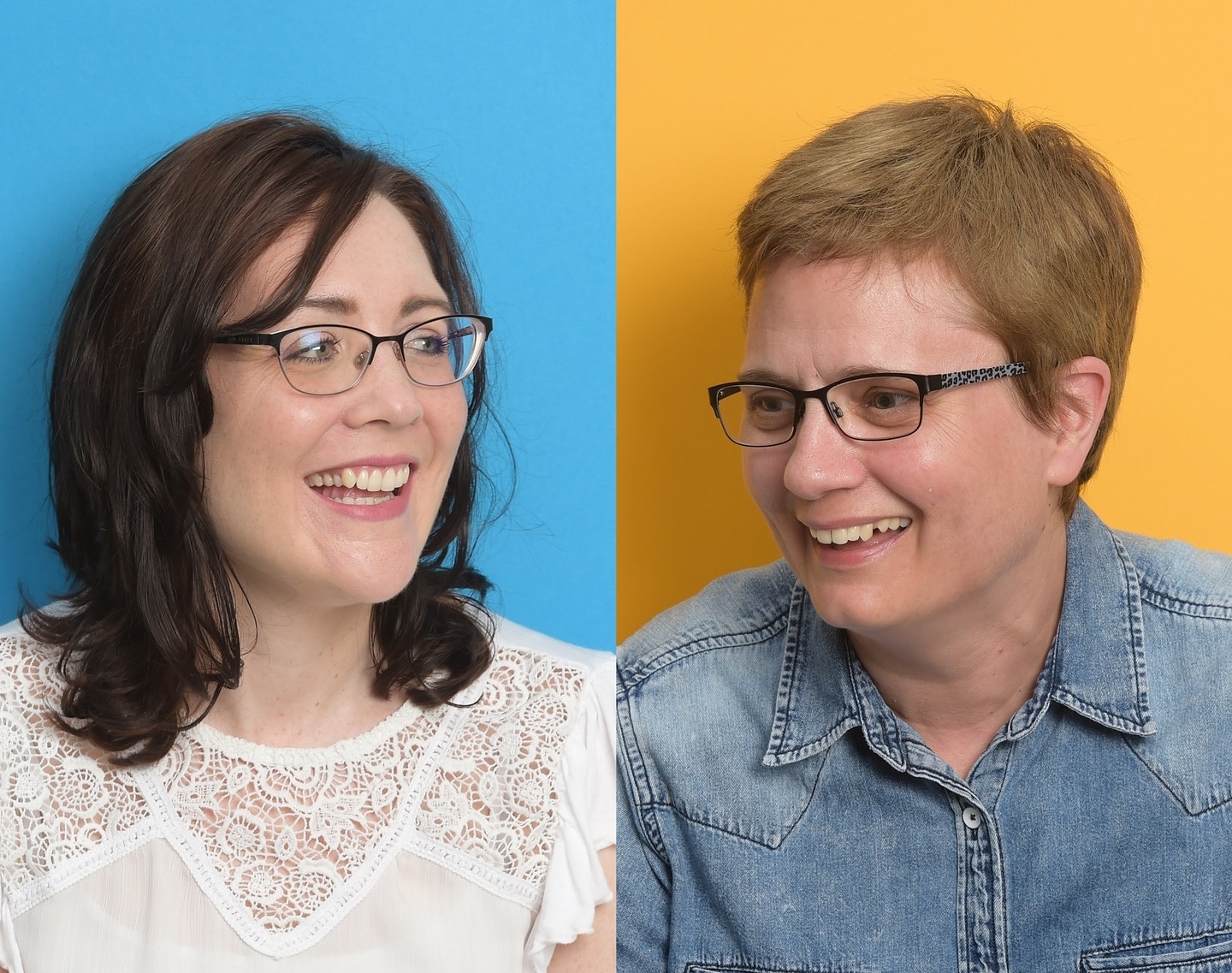 Thoughts
Meet the Team
Julie and Kate
Meet the team: Kate Chandler and Julie Potter, two of our designers, have seen Greenwich Design go through a number of changes recently. We catch up with them to find out how they feel about a new studio, a company merger and the evolution of the business they know and love.
You've been at GD for a while now. What is that you love about working here? 
Kate: For me it's the people. It's like one big family and the team is really close-knit.
Julie: That and the work culture. I love the constant challenges and problem-solving. We have a great exchange of banter, which continues on Slack even while people are working from home, and we're always bouncing ideas off one another. Then there's the location of course. It's great being near the river, and we're right next to the park in case you fancy a quick jog at lunchtime. Plus there are some great local watering holes!
A lot of agencies suffer from 'revolving door' syndrome. What do you think it is about the company that enables it to maintain its staff for so long? 
Kate: I think it's because everyone is close and, because we're a boutique agency, there's a need for everyone to get involved in multiple aspects of the business. That makes it much more interesting and gives the feeling of being very connected to the company. It also means we're constantly learning and growing.
Julie: The padlocks and superglue help! Just kidding. I think it's a mix of the work, the culture, the environment and the location – we've recently moved into a really cool studio. Plus we all get on well and the team members' personalities and skill sets really complement each other.
Is the fact that it was a family-run business noticeable in the day-to-day?
Kate: Yes. I think the roots as a family-run business have definitely become part of the culture and that translates into a lot of informality and banter, but also a strong, loyal team that looks out for one another.
Julie: I agree, that personable touch has definitely been maintained. And it's not just with staff. The same is true with clients. They are able to get close to the people working on their business so that we become an extension of their team. I'm sure that's why we've been able to nurture so many long-standing client relationships.
What have been the biggest changes since GD and Pixello joined forces? 
Kate: We have been getting much more involved in the digital side of things, which has been a great opportunity to develop new skills and embrace different experiences.
Julie: It's also opened the doors to a whole scope of new clients from different sectors, which is bringing new and fresh creative challenges to the team. That's what excites me most about the merger.
What's been the highlight of your career at Greenwich so far? 
Kate: It's not one specific thing – it's been having good mentors like Dan and Simon who take the time to ensure they are providing the right level of guidance, while allowing us to develop on our own, which I think helps everyone to grow professionally.
Julie: For me the highlight has to be having the opportunity to go on photoshoots to Maranello in Italy, the home of Ferrari, on several occasions. We were able to get up close and personal with the F1 Team at their test track and I had the privilege of meeting Michael Schumacher and seeing him in action when he was at the pinnacle of his career.
What are you most excited about since the merger? 
Kate: It's given the designers who focused mostly on branding and print the opportunity to build their skillset, which is always a good thing. Moving into the new studio, combined with the merger, has felt like a breath of fresh air and the start of a new direction. Plus we now have a Nespresso machine!
Julie: I think it's the prospect of a more diverse client base, which means new creative opportunities. Plus we can now offer a complete service package, which I think will challenge us, and our clients, to think differently. 
Can you describe a typical work day for you? 
Kate: Recently, because of the Covid situation, I've been working from home, so that's meant mostly working solo and focusing on my ongoing projects, but it's always nice to get together with everyone virtually for our weekly team meetings and brainstorming sessions.

Julie: Given the current state of affairs in the world, what's a typical day in 2020? For me, I come in and open up the studio — let it breathe. I'll check Slack for Good Morning banter with the team, most of whom are currently working from home. I have to have good music vibes so I'll set the tone with an upbeat playlist, then I'm good to go. Ready to meet the tasks ahead and focus, with no distractions (until one of our four legged friends stops by for some attention, that is!).
Anything else you'd like to add?
Julie: Cake, tea, cake, in that order please.