Thoughts
Our brand purpose? Make Happy Clients
In 2020, Greenwich Design and Pixello merged to become a Design and Digital agency. Now, two years on, Dan, our Creative Director, talks about how things are going and why his goal is to 'make happy clients'.
What's changed since you merged with Pixello?
When we moved into our new studio two years ago after merging with Pixello to form the 'new' Greenwich Design, everyone was buzzing with excitement at the prospect of a fresh start. While I was worried that the initial enthusiasm might wear off once the new business became the norm, I can honestly say that two years on, everyone is still having a great time at the studio. Happy designers make better work, and that, in turn, makes happy clients.
That's Greenwich Design's brand purpose, what gets us out of bed every day – to Make Happy Clients. Read that again: Make Happy Clients not Make Clients Happy. It's an important distinction: we're not cow-towing to clients in a sycophantic way; we're challenging clients' thinking, coming up with creative ideas that fire them up and ultimately, deliver results.
What motivates you and the team?
I'm a self-confessed people pleaser – I want everyone to like what we do; I want the team to enjoy what they're doing; I want clients to get value out of what we do. But our value lies in taking clients to a place they've not thought of before. Business people know their game, but our skill lies in finding different solutions to their business problems.
There's nothing better than a client saying, "Wow, I'd have never thought we'd get here!" That's what we do it for. Obviously, we need to make money, but it's the buzz we get when a client loves the work that really motivates us.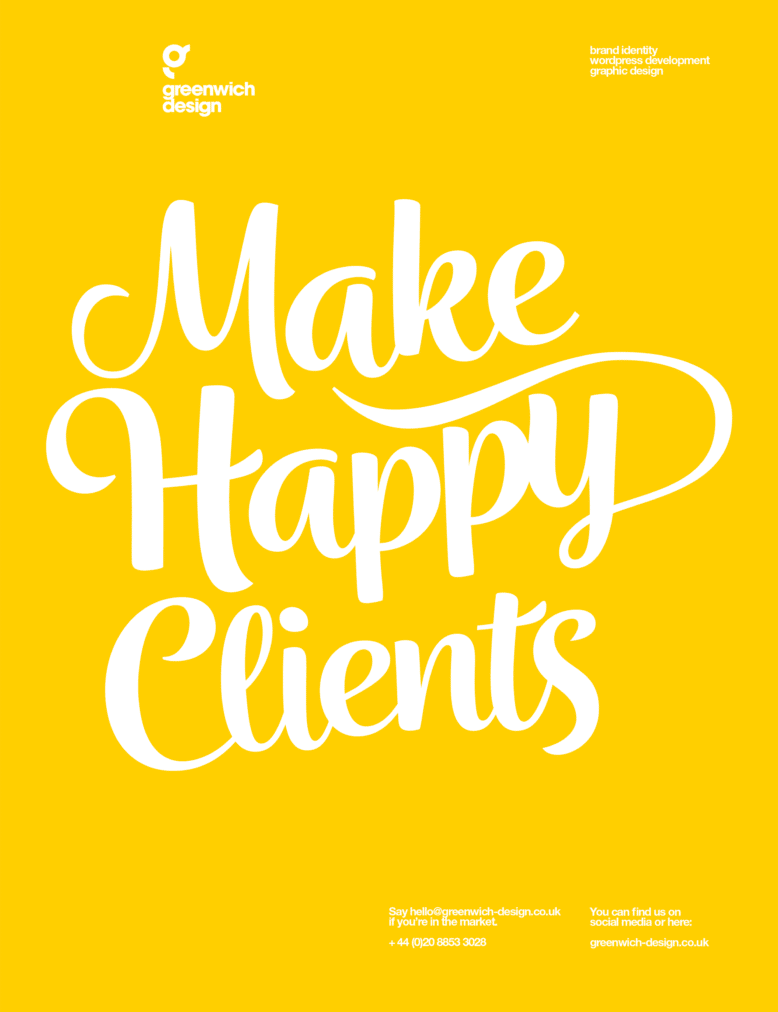 "Make Happy Clients not Make Clients Happy. It's an important distinction."
Who are your favourite clients?
We love all our clients! But personally, I enjoy working with the smaller businesses and start-ups, as it often allows for more creative freedom than bigger, more established brands. People often don't realise the amount of work that's involved in creating a brand identity. They might come to us with the attitude, "It's just a logo – why is it costing so much?" – but when you take them on that journey from start to finish, they understand why. They start to see the long term value in it, because a good logo needs to last and getting it wrong can be an expensive mistake to make, especially early on.
Since the pandemic, we've taken on about 10 new starts-ups who've taken the plunge to launch their own business. It's a magical thing to see their businesses take off, and we're going to be there to support them as they grow too.
How do you get new business?
We've been lucky to get most of our new business through recommendations. We're also pushing out more work through the website and down the social channels – making a bit more noise than we did previously. We've won a few awards lately so that never hurts. We have a Google review page and client reviews are coming in nicely. But mostly, we're getting put forward by people who have enjoyed working with us. They see we're adding real value to their business. And adding the digital division to the business has opened so many doors for us.
What's the most important priority for you as a business?
Without question, it's the team. Without them we wouldn't have a business. Our success comes from having a strong team who collaborate well. They're central to everything we do and that means we see a value in looking after them.
We're also looking into starting internships and apprenticeships so that we can get the talented people in early, nurture them and help them to grow within the business. We're always looking to add fresh perspectives and different approaches to the table.
What are the longer-term goals for the company?
We've got to the point where we're almost where we want to be, so we keep doing more of the same for now. That said, we never stop learning and we never sit still, so ask me again next year and you'll probably get a different answer. It's not all about the money either. Of course, you have to make money but what keeps us going is working with really cool clients that provide plenty of different problems for our team to help fix.
In terms of our size, of course we'd like to grow, but it needs to be steady. We don't want to become so big that we lose our way or become all about the numbers. That would suck the fun right out of why we do what we do. We have an amazing team who we value, and who enjoy working here. Like I said, happy staff make amazing work, which makes happy clients.
As the world keeps turning, there will always be new challenges and opportunities to get involved in. We're not complacent by any stretch; we know we're only as good as our last job, but if we keep punching up and helping our clients do the same, we keep improving and we slowly grow. That's why people recommend us and that's what keeps clients coming back.
Our purpose is more than just a fluffy saying. It's why we get out of bed every morning. We make happy clients by delivering more than what they expect. Their business succeeds in no small part as a result of the design work we do or websites we create for them. We solve problems for them, we make their lives easier and we connect them to their customers – the combination of all those different things is what makes happy clients.