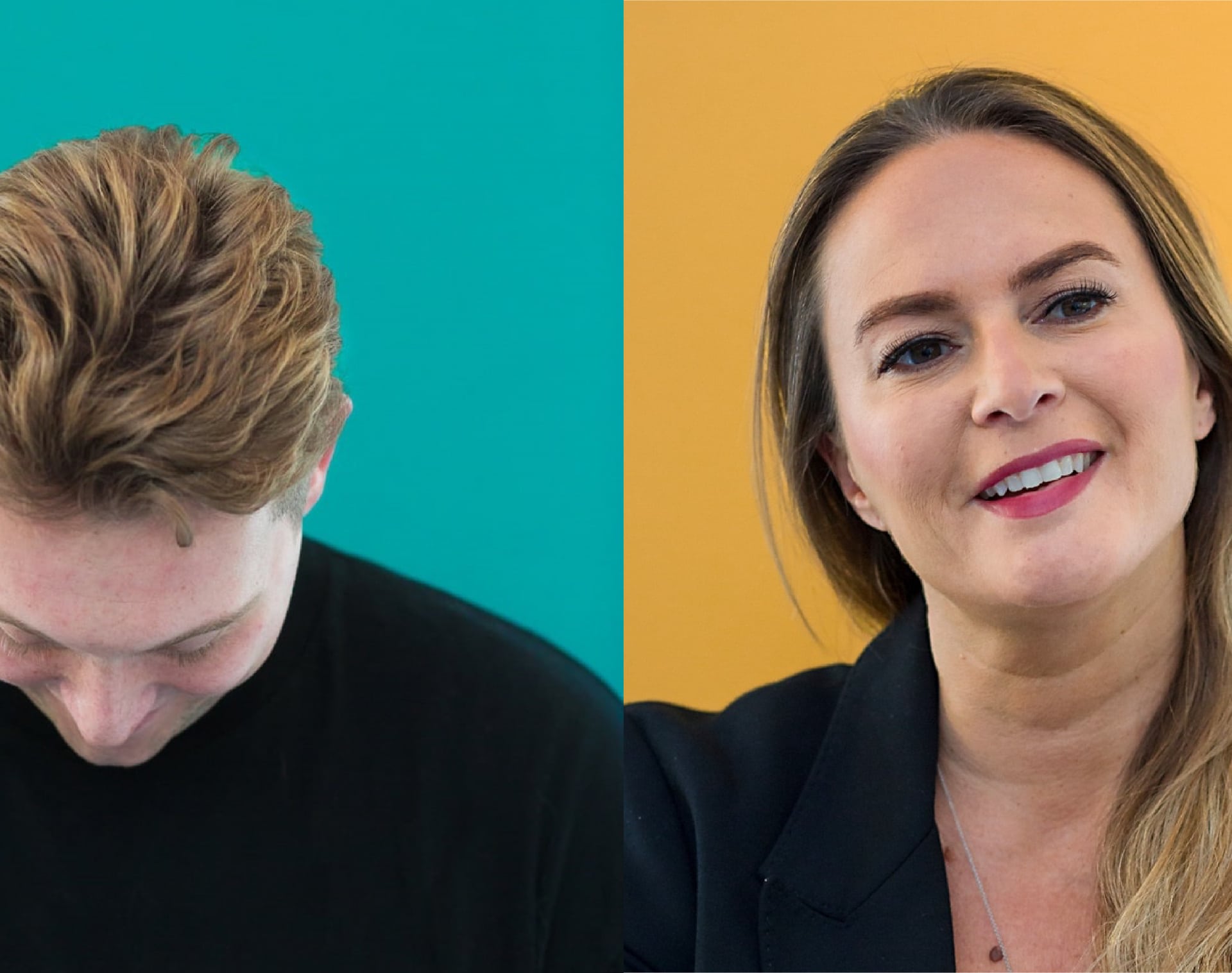 Thoughts
James and Hayley
join the team

It's been almost two years since Greenwich Design was reborn as a design and digital agency. Since then we've been super busy with loads of new clients and an exciting mix of projects. Our small team is growing too! Meet James and Hayley, recent additions to the Greenwich Design family.
James works on the digital team and Hayley ensures the studio runs smoothly – keeping us sweet with lots of snacks and treats!
So what brought you to Greenwich Design?
James: My sister, attentive as ever, tagged me in the Facebook post advertising the role. This is exactly what I wanted to do after leaving University, so it's kind of crazy how it all worked out! Without Mark Zuckerberg creating Facebook, I may never have found my dream job!
Hayley: A friend of mine forwarded the job ad to me thinking I would be a good match. I interviewed for the role and knew I was going to fit right in! After working in a big corporate environment for many years, Greenwich Design is a really nice change for me.
What's the best thing about working for Greenwich Design?
James: It all starts with the studio! It's such an amazing creative space, and the people are brilliant – everyone gets along. We're given a certain amount of flexibility and treated like grown ups, trusted to get on with things on the days we work from home. For me, it's my ideal job in a great studio in a fantastic location right next to Greenwich Park.
Hayley: I'd say it has to be the chocolate and snack supplies … Oh and the awesome team of course! We also have such a relaxed, happy vibe going on in the studio – sometimes I don't want to go home!
What are the challenges and the upsides of working for a boutique agency?
James: This is the first agency I've worked for, but I've worked in a large company. The thing I love about working in a smaller environment is the communication and attention that everyone receives. Support is always there and time is invested in staff. In short, you feel much more valued.
Hayley: I agree with James. Being part of a smaller team makes it feels like you're appreciated more and your ideas are valued.
What's a typical work day like for you?
James: Even though we're busy, it's a fairly calm and relaxed atmosphere. I focus mainly on the digital aspect of the business and now that I've settled in, I know exactly what's expected of me. Now that I'm comfortable in my routine, I'm looking forward to expanding my skill set and growing with the company.
Hayley: I look after the studio, keep the team happy and invoice clients to make sure we get paid! I really enjoy my job – working here has made me realise it's so important to be happy at work. After all, you spend more time with your colleagues than you do with your own family.
What do you do in your free time?
James: I love to go to Tottenham when I can. It's definitely my happy place (most of the time!) and always has been. Whether I'm there or watching at home, it takes me out of everything for that 90 minutes.
Hayley: My other job is being a mum (not just to my three children – I also have two dogs!). I love interior design – we've been renovating our house for the last seven years – and music, food, and any kind of shopping.
Who or where do you go to for inspiration?
James: For me, inspiration has always come from gaming. It's my escapism and I love nothing more than to get into a beautiful game. I'm never more inspired than when a scene in a game takes hold of me. My favorites of all time have to be 1. The opening church scene in Bioshock: Infinite…absolutely beautiful. And 2. The 'Last Ride' scene from Red Dead Redemption 2. They both completely transport you into another world.
Hayley: For work advice, I always pick the brains of one of the creative GD'ers. For my interior design inspiration, I love wandering around Greenwich or Spitalfields Market – I really love mixing up both modern and vintage style. Apps like Pinterest always give good ideas too.
We're always looking for talented people to join our friendly team. If you're interested in finding out more, please email us at: hello@greenwich-design.co.uk.