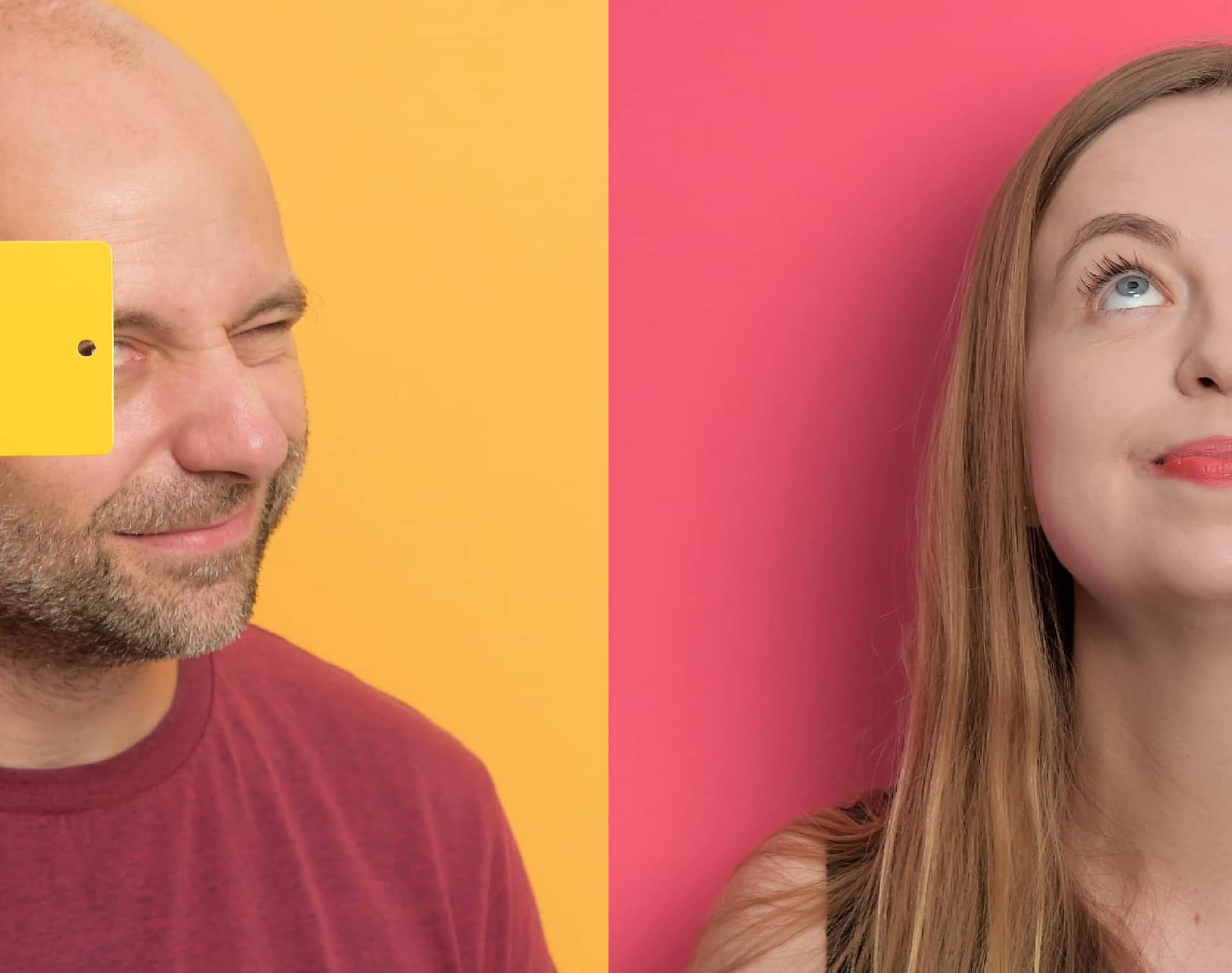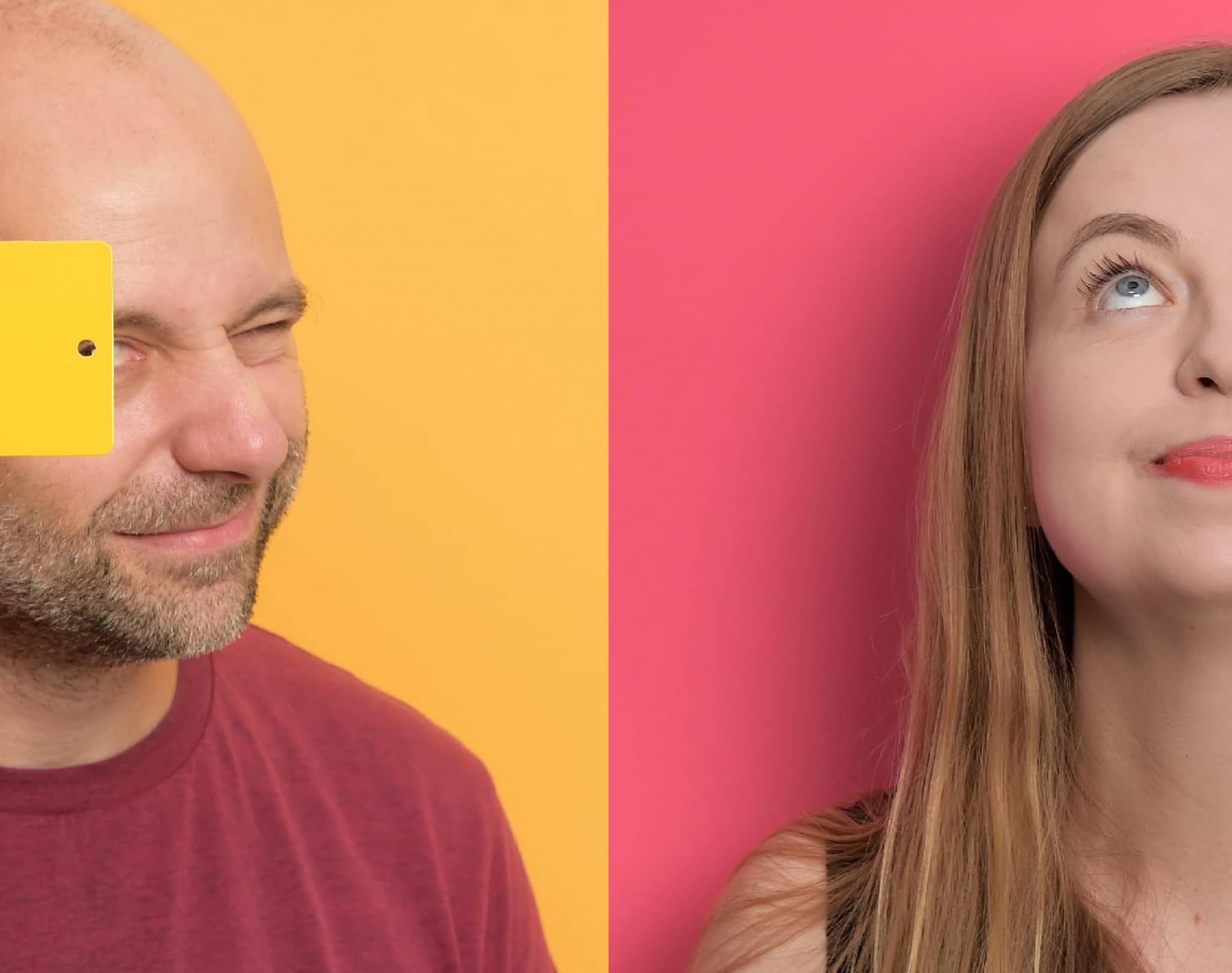 Thoughts
Meet the team:
Samanta and Conrad
Meet the team: Samanta Anderson, a designer, and Conrad van Dyk, an artworker, are the newest members of the Greenwich Design team. We catch up with them to chat about how they're finding it now that they've both been here a few months.
What attracted you to working at Greenwich Design?
Samanta: For me, it was the work coming out of the company. I think the quality of work Greenwich Design produces is immaculate. The variety of projects also appealed to me – from branding, marketing collateral, packaging, animation to web design and development. 
I have print and digital design skills so it was very important for me to find a role where I could use both – the recent merger with digital creators, Pixello, made it more attractive and exciting for me.
Conrad: I agree – after doing some research on Greenwich Design, I really liked the work being produced by the company. I liked the creativity, but also, the simplicity of it. The fact that it's a smaller company also attracted me. I find that small businesses often have a clearer direction and have the potential to be less corporate. I also feel that you have more opportunity to put your own stamp on the work. 
So, you've both been here a few months now. What's the best thing about working for the company so far?
Samanta: Definitely the people. Everyone at Greenwich Design is very friendly, helpful and supportive. It's an experienced, knowledgeable and talented team. Everyone has a different skill set, but is happy to share their knowledge and learn from each other. That's the perfect combination for achieving the best possible results for our clients. 
Conrad: I'd have to agree, it's the people. They're a really nice group, who I can see in time will become good friends. You don't always have that luxury in the workplace and it's even more important in a small company.   
I also like the company's 'human' approach – they seem to have time for people. One example is the approach to flexible working that the Directors have put in place since lockdown, where people don't have to be in the office every single day. It's a very reassuring environment.
How does the 'family' ethos and culture translate in the day-to-day business?
Samanta: Following the merger with Pixello, it feels more like a collaboration between design and digital experts. The company has a flat structure and everyone's views are valued equally, which really helps with the design process. There is a clear delineation between design and digital and I believe this creates clarity not only for everyone in the company but also for our clients. Of course, there's a lot of crossover and we all work very closely together, but it's nice to have that clear distinction between print and digital. 
Conrad: With regards to the culture – I wasn't initially aware that Greenwich Design had been a family-run business, but I think one of the ways this is noticeable is in the length of service from many of the team. It's impressive and that speaks volumes about the business. 
What are the biggest challenges and the upsides to working for an SME?
Samanta: It can get very busy sometimes, but it really helps having such a supportive team, where everyone is always happy to help and share the workload if needed. One of the advantages is that, as a designer, you have more freedom to do creative and innovative work, which is fun. Our Creative Director, Dan, always encourages our creative thinking, which leads to better, stronger and more effective ideas for our clients. 
I also think that SMEs tend to have more dedicated teams. Everyone at Greenwich Design cares about the work we produce and about our clients. We all strive to go above and beyond expectations for every single client. This kind of environment is especially motivating and inspiring. 
Conrad: Often in big companies there are so many teams and personalities, it takes a long time to get things done. Here, there is less of a hierarchy, which means you can make changes more quickly. If you've got questions, you can get answers immediately – you don't have to wait around for lengthy approval processes. We're more streamlined and therefore able to be more agile.
What does a typical work day look like for you?
Samanta: Because of Covid, we usually come into the office a couple of days a week and work from home the other days. Every day differs depending on many factors – which projects we're working on, if we have any client meetings on that day or not. 
I'm an early bird and like to start the day as early as possible. I make a To Do list and I like to have it prioritised depending on how urgent and how complicated each job or task is. 
Very often, I am working on multiple projects on the same day, so it's important to manage my time well. We use an online platform called Streamtime, which is really great for planning and tracking our time across different projects. My typical day involves a lot of collaboration with other designers and the work itself is always interesting and varied. 
When working from home, we all use Slack for our day-to-day communication, sharing files and video meetings. Slack is great for sharing a screen, progress or ideas, and of course, for giving each other feedback. 
Conrad: As Sam says, the structure of our days can differ now depending on whether we're working from home or in the office. There's a lot of variety in what I do and it can often be quite reactive, so in the morning I'll start by catching up with my teammates to determine priorities for the day. I'll chat about the brief and ask questions to make sure that I fully understand what's required. 
Some of the work I do can be quite abstract, but I have a very logical mind and it pleases me to figure out why and how things work. I often have to think ahead to ensure what I'm doing will produce the outcome I'm aiming for three steps down the line. I love figuring things out like that – I find it therapeutic. 
I'm a perfectionist and, with what I'm doing now, I can actually get something just right. There might be more than one way of getting there, but I can make it perfect and that appeals to me. I can work my way through projects and feel a sense of achievement, every day of the week. 
Anything else to add about what makes Greenwich Design special?
Samanta: When we're in the office, there's no better stress release therapy than getting cuddles from Peaches, Sid or Bede, our office dogs. It's also amazing to be so close to Greenwich Park and to be able to go for a short walk, get some fresh air and some creative ideas during lunch break!
Conrad: Yes, that's another reason why the company is so appealing – Greenwich is such a great location to be based!